Nut Butter Cookies with Avocado
You may think that nut butter and avocados sound like a wild combination, it couldn't be farther from the truth. Actually, the avocado acts like fat that cookies need to bake properly. I used a small smidgen of butter to add additional flavor and create the texture I desired.
While Henry and I could bake every day under the current CDC advisory on social distancing and staying home, I have tried to spread it out. He loves baking and doesn't understand too many sweets can take a toll on the body and that moderation is a better way to live. Hard convincing a two-year-old who loves to stir, crack, whisk, and bake. The sweet treat is quite a bonus for his labors and he continues to ask for more.
Don't feel guilty about these cookies though. Whenever I am creating a new recipe, especially baking, I try to bring in healthier ingredients and minimize the not-so-good ones in order to make it work for you and not against you. For example, these delightful morsels are packed with not only nut butter, (please use your favorite) but they also include almond flour and whole wheat flour. The coconut sugar used also has a lower glycemic level which will limit your blood sugar from spiking. The avocado acts as your healthy fat and only a large dollop of butter is spread out over 16-18 cookies. Not too bad, right?
From our kitchen to yours, we hope you enjoy these nut butter cookies made with avocados and wish you good health always!
Nut Butter Cookies with Avocado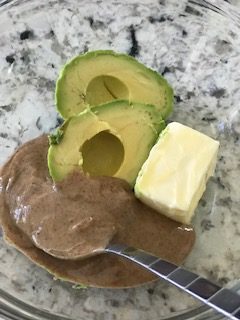 1 small avocado
1/3 c. nut butter, room temperature
3 Tbsp. Butter
1 egg
splash of vanilla and almond extract
1/4 c. coconut sugar
1/4 c. almond flour
1/2 c. whole wheat flour
1/4 tsp baking soda
1/4 tsp sea salt
1/4 tsp nutmeg
Directions
Preheat your oven to 375 degrees Fahrenheit.
In a medium mixing bowl, mash the avocado, and combine with nutter butter and regular butter at room temperature. Blend until smooth. Add egg and a splash of vanilla and almond extract to combine.
Stir in the dry ingredients, coconut sugar, almond flour, whole wheat flour, baking soda, sea salt, and nutmeg.
Once mixed well, use a cookie scoop to spoon the batter on an ungreased cookie sheet. These cookies will not spread. Allow for at least an inch separation and you'll be good.
Bake for 10 minutes and remove to a cooling rack or serving plate and enjoy!