Sweet Potato Bisque
An autumn soup that warms the body & soul. A soft blend of turmeric, yellow curry and nutmeg, pureed together with nutrient dense baked sweet potatoes create a velvety soup you will want to make again and again. It is that damn good and super easy to make.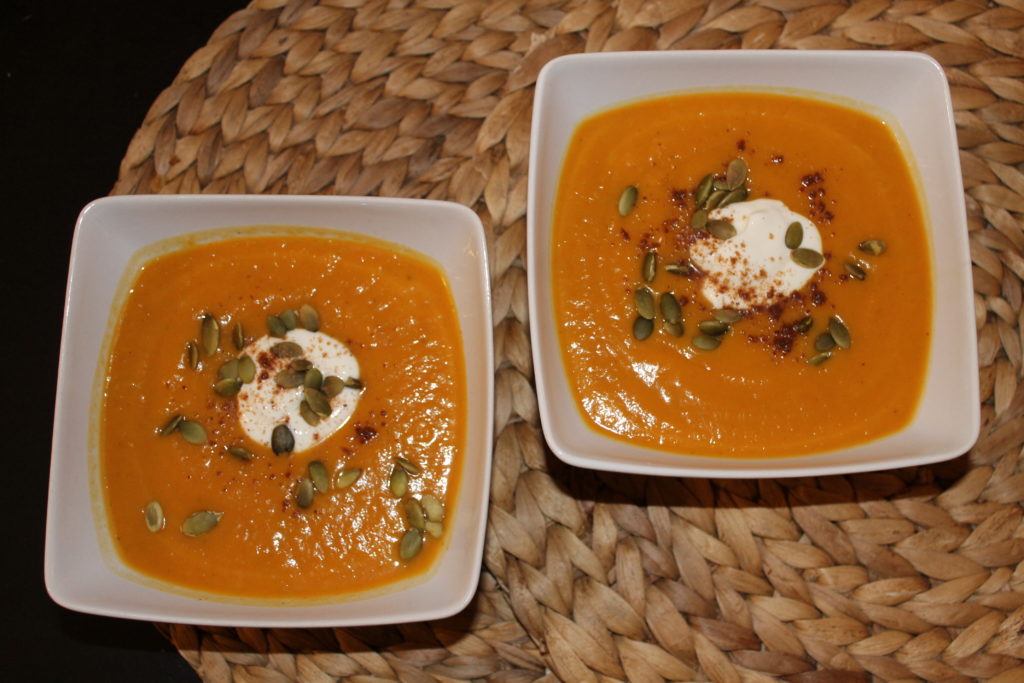 Sweet Potato Soup
1 Tbsp Olive Oil
2 Celery Sticks, sliced
½ White Onion, chopped
2 large Sweet Potatoes, peeled and roasted
2 Carrots, peeled and roasted
2 ½ cups Vegetable Stock
2 cups Almond Milk
½ cup White Wine
¾ tsp Himalayan Sea Salt
½ tsp White Pepper
1/2 tsp Turmeric
1/2 tsp Yellow London Curry
1/8 tsp Ground Nutmeg
Garnish
Greek Yogurt
2 Tbsp Pumpkin Seeds
Ground Nutmeg
DIRECTIONS
Individually wrap peeled sweet potatoes in foil and roast in a 375˚F or 190˚C heated oven for 30 minutes to an hour. Based on size the time will fluctuate. At the same time, wrap the carrots and roast. The cooking time for the carrots will be from 20-30 minutes, check for doneness and remove.
Heat olive oil in a large sauce pan over medium high heat. Add the celery and onions and saute until tender. Add the chopped up sweet potatoes and carrots and stir to incorporate. Continue by adding the stock, almond milk and white wine. Season with salt, pepper, turmeric, sage and ground nutmeg. Bring to a rolling simmer and allow to cook for 5 minutes. Using an immersion blender, puree the soup to your preferred consistency.
Ladle into bowls. Garnish with a dollop of Greek yogurt, pumpkin seeds and a pinch of nutmeg. Serve and enjoy!